PU vinyl transfer is now the most popular heat press material. PU vinyl can be cut by a vinyl cutter to print name, number, logo and design on T-shirts, sports wear and other garments by a heat press. It is very durable, stretchable, washes fast and will last life of garments. Process the image on your computer, cut the picture contour with cutter plotter, then peel off the part you don't need. At last, press the image on T-shirt or other fabric products.
It can be used for numbering, lettering and symbols for sports uniforms, T-shirts and other fabrics.
The results after being printed on garments are particularly effective in terms of expansion, contraction and endurance.
The special heat transfer film boasts excellent cut, weed and adhesion properties as well as a soft feel.
It can be used on spandex textiles and has proven stretchability.
Huge marketing opportunity
-unique T-shirt for customer
- Best chance to earn money in your local city.
- Just several steps, you can create a design, Lovely gift to your beloved ones
Son, Daughter, Parents, Kids, Boys, Girls, Men, Women.
- Letter, logo, Number, funny ,sport, music, image.
- Just a few steps can created a vector image
- Average 10 minute to finish one shirt, from edit picture to shirt transfer already.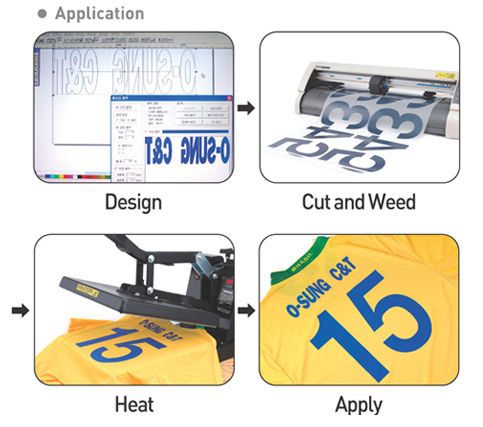 This start up kit offers cutting plotter and heat press T-shirt transfer. With this package you can heat press characters and patterns on T-shirts directly.