Details
Details

Category: Photo Album Making Tips
Published on Monday, 07 May 2012 03:51
Written by shichang ding
Hits: 6444
Flush mount photo albums have hard covers with thick, unbending pages. They consist of photographic prints that were dry-mounted on cardboard. The covers are mostly made of leather, leatherette or Glass. The photos lay completely flat and extend across the whole page. Flush mount photo albums are usually designed in magazine-style. They are most often used for special occasions such as weddings and anniversaries due to the fact that they are produced of a higher quality and are more expensive to produce than coffee table books.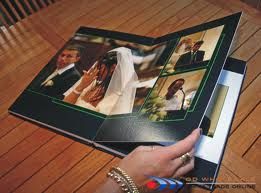 All the flush mount photo book pages are lay-flat and no gutter in between pages.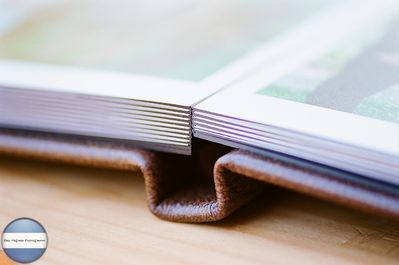 This is a flush mount album spine. Notice how the images are mounted flush to the page, and the pages lie flat when the wedding album is fully open.
Flush mount photo album is a book where the pages are mounted flush to the page.  It is a more modern style wedding book, unlike the older versions where the picture was glued behind a paper frame in the album. This style of flush mounting gives a cleaner look, in my opinion.  When you choose a flush mount album, the entire page is a single photo, so you can use a design program to style the image, and make designs, or multiple images on the same page.  Personally, I like to put only a few images on each page, that way the pictures are bigger, and clearer, and easier to see.