Perfect Binding machine partners - Hard cover maker and Creaser
Hard cover maker
The first good partner for perfect binding machine is the Hard cover maker machine(Case book maker).As is known, the perfect binding machine is qualified for the general book binding(hard cover, soft cover, documents,ect). Howerver, usually,we will come accross customers who has a higher demand on their book making, like, delicate customerized book making, personalized case book, or CD box, photo album, restaurant menus. They may want to print photoes, logoes, artwork, text on the cover. Hard cover maker machine can help you meet your customers' critical demands and make you win more orders in the competitive market.
When choose a hard cover maker machine, you must come to realize that different models have different founctions. Some are specially used for book hard covers(like Dingword D580) , some has mutible founctions like making CD/DVD box(like Dingword SK950C). Also, they have different finish product size.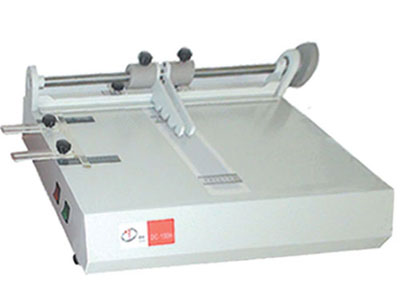 Creasing mchine
The second good partner for perfect binding machine is Creasing machine.When you make book covers , you need to crease the spines and book covers.Two line creasers, four line creasers, manual creasers, electric creasers, there is various model for you to choose. The same with the hardcover machine, you had better choose the creasing machine with the same finished product size with the perfect binding machine.